Harry Patterson memorial park in Alltwen a step closer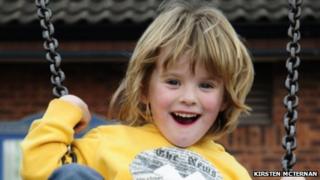 A park in memory of a five-year-old boy killed in a driveway accident has taken a step closer.
Harry Patterson was hit by the family car when it slipped down the drive at their Swansea Valley home in 2011.
Cilybebyll Community Council have made a patch of ground available for the park at Alltwen.
Work on Harry's Park is now due to begin in the new year after a £75,000 grant from Waste Recycling Environmental Ltd (Wren).
The charity Harry's Fund was set up last year and made the application, with the help of the community council.
'Thrilled to bits'
"This is such a boost for us as a charity and even more so as a family," said Harry's family in a website statement.
"This grant means we can achieve our first goal in building a park which will bring a community together and help us remember Harry for all our days.
"We are just thrilled to bits with the award and cannot thank Wren and everyone that has helped with the application enough. Now the hard work can really begin."
Harry suffered head injuries in the incident in September 2011.
A coroner recorded an accidental death verdict on an "appalling" tragedy.
Harry's parents Christian and Michelle Patterson established a fund in his memory, and the park is the first of their objectives.
Donations are also being used to help disadvantaged children in their area, and to provide tailored support and counselling for other bereaved families.
A second campaign by the family aims to ensure that the tragedy is not repeated.
Their organisation PING (Park In Gear) is highlighting the outcome of Harry's December 2011 inquest.
The coroner found that even though the car's brakes had not been faulty, the metal contracting while cooling had been sufficient to cause it to start rolling on such a steep incline.