Search for Swansea leisure centre pool sex attacker finishes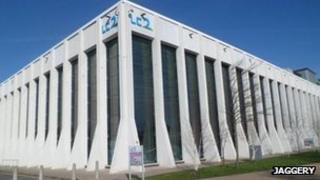 Police have ended their search for a man who sexually assaulted three girls in the pool of Swansea's main leisure centre.
The girls - aged eight, nine and 15 - were targeted by a man in the LC in Oystermouth Road on 21 August.
The centre was closed for a short time following the incident while police searched the premises, and detectives at South Wales Police have since studied CCTV footage.
Officers said nobody had been found.
"Despite an extensive investigation into allegations of indecent behaviour at the LC in Swansea in August, no culprit has been identified and in the absence of any new information the matter has been finalised," a spokesperson said.
Nic Beggs, general manager of the LC, said extra CCTV had been installed since the incident and staff had received extra training from the police.
He added: "We have been working closely with the police since this incident took place and we are clearly disappointed no one has been apprehended.
"We take a zero tolerance approach to inappropriate behaviour and have made a number of improvements in recent months to increase customer safety."
Officers described the suspect as tanned with collar-length brown hair, unshaven, and wearing black or blue knee-length board shorts.
Anyone with any information should call Swansea Central CID on 01792 450618 or 101 or Crimestoppers on 0800 555 111.