Tata Steel's response to dust pollution under review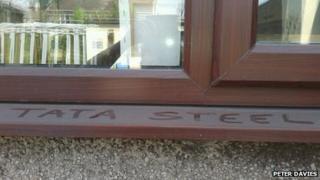 An environmental body is reviewing the response from Tata Steel to an ongoing dust saga.
Earlier this year, Natural Resources Wales (NRW) issued an enforcement notice ordering the company in Port Talbot to reduce dust from the site after complaints from residents.
NRW said it was happy with Tata's response but the steelworks still had deadlines to meet.
Meanwhile, some residents are taking legal action against the company.
Complaints were made about dust in July 2013 and NRW launched an investigation with Tata to pinpoint the source of dust problems.
Dust particles from the plant coated homes, cars and gardens - with some residents claiming it was an ongoing problem.
Tata altered production techniques and spent £800,000 on a device to wash dust off vehicle tyres.
It was ordered to lower the temperature of the production process and find a dust suppressant that tolerates higher temperatures.
The deadline for the first part of the notice has passed and NRW has been assessing Tata's response.
Prevent pollution
Gavin Bown, from NRW, said: "We have examined Tata's submission and we are about to carry out an inspection to verify specific parts of the response.
"While we are broadly satisfied with the actions they have taken so far, which have met, and in some cases exceeded, the requirements of the first part of our notice, we must stress that there are still outstanding actions which must be completed by the end of January 2014."
The second notice orders Tata to address how it will comply with the Industrial Emissions Directive (IED), which limits emissions and identifies ways to control and prevent pollution.
NRW will also consult with the public and change Tata's permit to include the new limits.
A Tata spokesman said: "We acknowledge there were some issues with dust in June and July and we engaged with all relevant stake-holders, such as the council, at the time and continue to do so."
But some residents have decided to take legal action.
"The action would be for compensation for what has occurred in the past, and perhaps more importantly, an injunction to prevent the continuation of the nuisance in future," said Gwen Evans, a partner with Hugh James solicitors.
Tata said it had not been contacted by the law firm.