Gianni Sonvico: Family tribute to Thames body barrister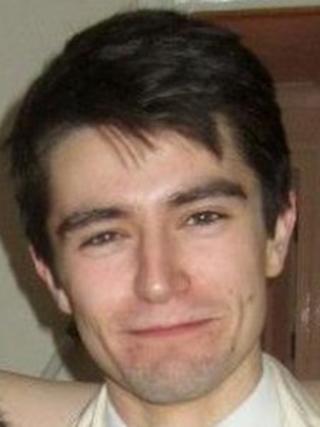 The family and friends of a lawyer from Pembrokeshire whose body was found in the River Thames have paid tribute to a "loving son, brother and loyal friend".
Gianni Sonvico, 23, of Islington, died after a night out on 25 October.
Formerly of Goodwick, his family said he was "on the cusp of a stellar career in the law".
A childhood friend added: "He was my personal motivator - in his remembrance I will try and be everything I told him that I'd be and become."
Mr Sonvico had qualified as a barrister during the summer and was working at the Law Commission in London on law reform projects.
A keen Arsenal supporter, he lived near the club's Emirates Stadium in north London.
Almost 2,000 people joined a Facebook group appealing for information following his disappearance.
In a statement issued via the Metropolitan Police, his mother Karen Chandler and sister Maya Sonvico, said Mr Sonvico had "fantastic friends and housemates who are grieving deeply, and loyal lifelong friends from Pembrokeshire who converged in London to search for him".
They added: "Gianni was on the cusp of a stellar career in the law, as evidenced by the many tributes received after his untimely death.
"But he wasn't just a promising lawyer - he was also the most loving son and brother, and loyal friend."
The childhood friend added: "He was the only person who agreed with me on everything I wanted to do."
Mr Sonvico's funeral was in London on 11 December.