Norovirus: Warning as cases hit three south Wales' hospitals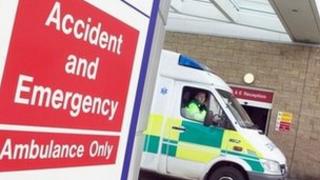 Five wards at two hospitals in the Swansea health board area have been closed by a sickness bug, adding to winter pressures, say managers.
Morriston Hospital has two wards shut with confirmed norovirus or outbreaks of diarrhoea and vomiting while Neath Port Talbot Hospital has three.
Meanwhile, Cardiff and Vale Health Board said three wards were closed at University Hospital Llandough.
Parts of a ward has also closed at the University Hospital of Wales, Cardiff.
Over the weekend the health board asked people to have a "sensible" approach to visiting the hospital.
Director for infection prevention and control, Dr Eleri Davies, said: "It is very difficult to stop the spread of norovirus once it is in hospital so we are asking the public to help support us by restricting visiting to what is absolutely necessary.
"If you are visiting friends or family in hospital then please heed the advice at the entrances to wards and practice good hand hygiene."
Abertawe Bro Morgannwg University Health Board said its A&E departments remain "under a lot of pressure".
It is urging people to stay away from emergency units unless necessary.
The health board has emergency departments at Morriston Hospital in Swansea and Princess of Wales Hospital in Bridgend.
The health board said one ward at Neath Port Talbot Hospital had suspected norovirus cases but it remained open as the cases were isolated from the rest of the patients.
'Appropriate care'
A spokeswoman said: "Sickness bugs are spreading throughout the community and we already have six wards affected by suspected norovirus.
"This is very serious as it reduces the number of beds we have available and delays some discharges and transfers from these wards.
"We continue to ask the public if you aren't seriously ill or injured to use the right service for your illness/injury and not the emergency department.
"By doing this you will receive appropriate care as quickly as possible and free up our emergency doctors to see those patients who need them most."
Norovirus is a highly contagious virus which causes nausea, vomiting and diarrhoea.
The symptoms begin about 12 to 48 hours after infection and usually last for between 12 and 60 hours.