Swansea City fan Scott Bryant died watching Man Utd game on TV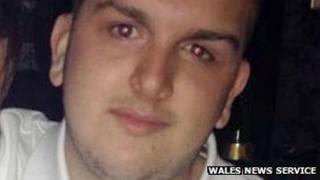 The family of a football fan who died suddenly at the weekend say they are comforted by the fact was doing what he lived for - watching Swansea City.
Lifelong fan Scott Bryant, 22, who had epilepsy, watched the Manchester United game at his Swansea home on Saturday because he had a bug.
He was found by his mother Julie when she went to check on him.
His father Stephen said he did everything to try to save his son.
'Heartbroken'
"I did everything I could to bring him round, I was pumping his chest until the paramedics arrived," said Mr Bryant.
"We are all heartbroken - he was such a nice lad.
"But we are taking comfort that he died doing what he lived for - watching Swansea City."
Mr Bryant said his son, who had to stop working for him in his building company after he was diagnosed with epilepsy two years ago, had been ill with a sickness bug.
However, he seemed to be getting better and had been looking forward to watching the Swansea v Man United game on Saturday afternoon, he said.
"The police doctor who came said he thought Scott had suffered a massive heart attack.
"But we are waiting for the results of a post-mortem examination before we know for sure," Mr Bryant added.
The family will have to wait for the results before a funeral can be arranged.
But they say they plan to have a Swansea City FC coffin for their son who had supported his team since he was a young boy.
'In pieces'
They also said they hoped the club would be represented at Scott's funeral.
About 200 friends have signed a tribute page on Facebook.
Mr Bryant added: "It's only now that he has gone that we have realised what a popular lad he was.
"We have had hundreds of messages from people who can't believe he has died so young."
Scott's mother Julie Bryant, and sister Laura, said they were "devastated", by his death.
"We are just in pieces, we haven't been able to get over it, we won't ever be able to.
"Scott lived for his football, it was his life," Mrs Bryant added.