Joanna Hall stabbed 40 times by boyfriend, Tenby murder trial told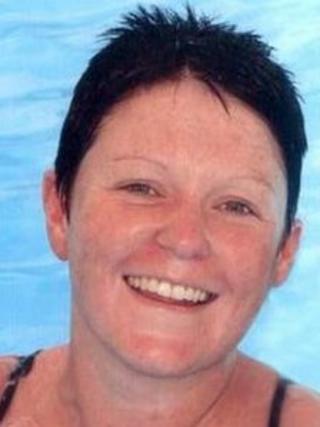 A woman was stabbed more than 40 times by her boyfriend in her Pembrokeshire home, a murder trial has heard.
Joanna Hall, from Tenby, managed to regain consciousness to name Steven Daniel Williams as her attacker as she lay dying in hospital.
Mr Williams, 30, from Tenby, denies murder at Swansea Crown Court.
The jury heard his 999 call describing how Ms Hall had been stabbed and was "dying". She died three weeks later.
The trial heard Mr Williams posed as a grieving boyfriend and claimed a knifeman had broken in while he was out.
But the jury heard Ms Hall came around and managed to name Mr Williams as her killer before slipping into back into unconsciousness.
Ms Hall told police: "He started shouting at me and went into the kitchen and came back with a knife.
"I asked him what he was going to do with it and he said: 'Watch me'.
"He stabbed me in the back and the knife got stuck but he managed to get it out and carried on stabbing me.
"I thought I was going to die."
Ms Hall also told her sister Georgina at her bedside: "It was Steven Williams. He turned up at my flat after drinking whisky, there was argument and he flipped.
"He tried to rip a radiator off a wall and then began stabbing me.
"He then sat with me smoking a cigarette and said: 'Will you just die.'"
Elwen Evans QC, prosecuting, told the jury Ms Hall was repeatedly slashed and stabbed all over her body, with some of the injuries causing internal damage.
"It was obvious her condition was very serious indeed - she had suffered substantial blood loss," she told the jury.
"In spite of the operations her organs stopped functioning and she died in April 2013 - 20 days after the attack.
The court heard Mr Williams arguing aggressively with the emergency operator and swearing during the recorded telephone call from the house in Cresswell Street.
A male voice said: "Someone's been stabbed. Her intestines are hanging out." He then swore and said she was dying.
The jury was told how the operator struggled to get an address from the defendant who had to ask his dying girlfriend for details.
In the background a woman's voice could be heard crying or calling out. The prosecution explained that the voice was Ms Hall's, at which point her mother broke down in the public gallery.
Ms Evans told the jury that Ms Hall was awake when the air ambulance arrived and was able to give an account of what happened and named her attacker.
She told the court: "She then became unconscious and died some days later leaving many questions unanswered.
"The one person who can answer these questions has chosen not to."
Blood spots
The jury heard that there were marks on the sink which Ms Evans said were blood which matched Mr Williams' DNA, and suggested that initially Ms Hall had been able to fend him off during the attack.
They also heard there was damage to plasterwork by a radiator on the landing in the flat, which Ms Evans said might become relevant during the trial.
'Horrible'
The jury was told Mr Williams had visited Tenby Cottage Hospital on 15 March 2012, hours before the attack took place claiming he may have a sexually transmitted disease after having sex with a local woman, although he left without receiving a diagnosis.
They saw texts which were later sent from Ms Hall to the defendant, including one saying: "Don't even no y keep coming bac when uv made it quite clear u don't want to be wiv me."
After a number of texts and calls to Mr Williams, he replied: "Wot just coz i don't know where u live! U seriously wanna stay off the whiskey. youre horrible on it."
More texts and calls followed, then the court saw CCTV footage of Mr Williams walking to Cresswell St just after midnight on 16 March.
The next phone call from Ms Hall's phone at 02.10 GMT was to her voicemail, but it was not clear who had made it.
CCTV footage showed Mr Williams walking from Ms Hall's flat to Sainsbury's and buying a 20cl bottle of whisky.
The jury was told that a blood test showed Mr Williams had a high level of alcohol in his blood and Ms Evans said he had a history of alcohol use.
Jurors were shown photos of clothing Mr Williams was wearing on his arrest, a blue body warmer, with Ms Hall's blood on one side.
Ms Evans said "when he says he was helping Joanna, there's not much blood to indicate that".
The jury have been sent home and the trial continues on Thursday.