Pembroke Dock man must sell home in Spain to repay benefit fraud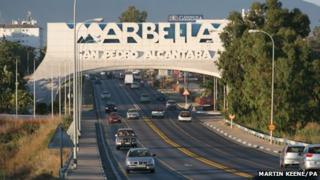 A Pembrokeshire man has been ordered to sell a home he owns in Spain to repay almost £26,000 of benefits he falsely claimed in the UK after becoming ill.
Nigel Hadley, 61, from Pembroke Dock, moved to Marbella in 2000, buying a fisherman's cottage two years later, but failed to declare that he had it.
He admitted three counts of benefit fraud at a plea hearing at Swansea Crown Court.
Hadley has been warned he faces jail if he fails to comply within six months.
The court heard Hadley had left the UK to set up a catering firm in Spain.
Jim Davis, defending, told the court Hadley had originally set up an outside catering firm in Spain focusing on the market for film schools.
"But in April 2010 he suffered a serious stroke and was unable to work and essentially stayed on in Spain until his money ran out," Mr Davis said.
Hoa Dieu, prosecuting, said Hadley came back to Britain in January 2011 and claimed employment support allowance from the benefit agency.
Within six months he also applied to his local council for housing benefit and council tax benefit.
In all three cases he failed to inform the authorities that he had a property in Spain, despite being asked verbally and on claim forms.
He was caught when the work and pension agency sent him an "habitual residency" claim form which specifically asked whether he had any other property.
The combined overpayment Hadley had received amounted to £25,960.
No buyer
Mr Davis said that as a result of his actions Hadley now found himself at "a very low ebb".
"He does find himself in a very difficult place as a result of his actions and, of course, he only has himself to blame for that."
He said that Hadley's Spanish home had been on the market for several years and had not found a buyer.
"It is not an easy market," Mr Davis said.
Judge Keith Thomas, sentenced Hadley to nine months in prison, suspended for 18 months.
He ordered him to pay back the full £25,960 claimed in benefits through the sale of his only asset, the Spanish property.
Prosecution costs
He said that from that amount £7,900 would be paid to Pembrokeshire County Council in compensation.
He also ordered Hadley to pay £1,200 prosecution costs.
All the repayments must be completed within six months or he will face a jail term.