Withybush maternity service plea from grieving mother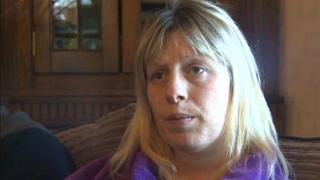 A woman who lost her baby and almost died herself is pleading for specialist maternity services at Pembrokeshire's Withybush Hospital not to be cut.
About 600 people protested this month at plans to transfer services to Glangwili in Carmarthen.
Kate Sutton, from Johnstown, near Haverfordwest, said: "They told me that night that if I'd had to go to Glanwili, I would not have survived."
Health Minister Mark Drakeford is set to announce a decision later.
Ms Sutton lost her baby daughter last week after she started haemorrhaging during childbirth but doctors managed to save her life.
She told BBC Wales: "I was minutes from death. And if that service was not available like it was to me that night, I would not be sitting here today."
Hywel Dda Health Board has said the plans, which could see some specialist care for mothers and newborn babies centralised at Glangwili hospital, are part of a wider reorganisation.
It said there was a need for trainee paediatric doctors working nights on call to be based at one hospital.
They argued mothers and babies needing advanced care would get better and safer treatment at a larger and more specialised unit in Carmarthen.
There has been significant opposition to the proposals from those who claim lives could be lost if some care is shifted from Withybush.
Campaigners, some politicians and the local patients watchdog insisted moving services further away could put people at risk.
Last September Mr Drakeford said, after expert advice, he had accepted the case for change, but before making a final call asked for more details on how other departments at Withybush that provide care for mothers and babies would be affected.
He is expected to make a statement to the Senedd on Tuesday.