Oyster design for Swansea tidal lagoon centre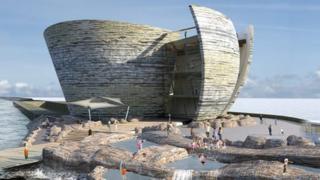 Designs have been unveiled for an oyster-shaped visitor centre which will be the centrepiece of a planned £756m tidal lagoon in Swansea.
The centre will provide educational, cultural and leisure facilities.
If approved, the lagoon will be formed by a six-mile, U-shaped seawall running from Swansea docks to near the university's new Fabian Way campus.
Tidal Lagoon Swansea Bay Ltd said it could generate 420,000 MWh of energy a year, enough for 121,000 homes.
The firm said the centre's architecture is intended to reflect the natural form and features of an oyster.
It would be sited at the end of the lagoon's seawall with access by foot, cycle and electric bus.
It will be made up of a series of overlapping shells sculpted to form a bowl-like structure.
'New waterfront'
Parts of the timber roof are designed to provide a natural ecological base for wildlife, while the building itself will be self-sufficient.
Alex Herbert, head of planning for Tidal Lagoon Power, said: "Swansea Bay Tidal Lagoon will create a new waterfront for Swansea, a focus for water-based activities and a visitor destination in its own right.
"The lagoon will also provide a new waterfront for the city and major water sports facility."
The lagoon, which would take about two years to build, would comprise an impounding "breakwater or seawall" capable of holding 11 square kms (4 sq miles) of water.
It would hold on to water and then let it out through turbines at both high and low tides which would generate electricity.
At low tide, water would flow from the lagoon into the sea, and from the sea into the lagoon at high tide.
But its size - over 100 megawatts - means its future will be decided by the UK government.
A report by Cardiff University last month, commissioned by the developer, found if the lagoon is completed to time - by 2017 - it would provide about 1,850 full-time equivalent jobs across the region for the three year construction period.
There would also be 60 long-term operational jobs and up to another 90 linked to visitor spending.
The research said the lagoon would create over £5m annual local spend during the operational phase.