Swansea pollution road traffic diversion scheme delayed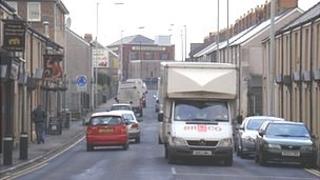 Efforts to cut road pollution in Swansea have been held up by delays in developing software for a new traffic management system.
The air, traffic and weather monitoring equipment and electronic signs were installed in the city centre about a year ago at a cost of £100,000.
But the system, which tells drivers to use other routes when pollution reaches high levels, is not ready to use.
No start date has been set for the scheme.
A Swansea council spokesperson said: "We are continuing to work with our partners to develop the innovative system.
"The system will respond to predictions of raised levels of air pollution and will aim to redirect motorists along routes away from the areas concerned.
"We are confident the Nowcaster system will help to improve local communities in areas affected by high vehicle-related pollution levels."
The system's main focus is Neath Road in Hafod. It is long and narrow which means at busy times and in warmer weather, air cannot escape.
Lorries banned
The section of the road that is affected runs from the Liberty Stadium to the traffic lights at Dyfatty. It has suffered for a number of years with traffic problems.
Hafod has been designated as an air quality management area since 2001 because pollution in the air exceeds safe levels.
Heavy goods vehicles were banned from the road in 1999, and speed bumps were removed in 2007 to help ease traffic flow.
Buses have also been diverted from Neath Road to another road running alongside.
The Nowcaster, which has been trialled and developed in Sweden, will be able to measure the traffic flow, air quality and weather in real time.
It will use all the information together to determine if pollution levels are likely to break European restrictions within a few hours.
The software, which is being tailored for use in Swansea, will then be able to send messages to electronic road signs near to Neath Road which warn people to use other routes.
Once operating motorists will be asked to use alternative routes, but plans are in place to create a relief road in the future.