Pembrokeshire student Zoe Morris's narrow escape as tree hits car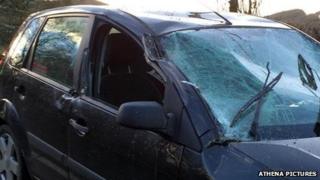 A student from Pembrokeshire has described her narrow escape when a huge tree crashed down onto her car.
Zoe Morris was driving to watch a rugby match when the tree came down on the B4328 Whitland Road at Llwynbrain Hill.
The 20-year-old, from Clynderwen, said the tree's 10-tonne trunk crashed just behind her car but a branch smashed into the front of her Ford Fiesta.
"There was a sudden bang, I didn't know what had happened," she said.
"The windscreen and the window were smashed.
'Write-off'
"I got out of the car OK and then there's this great tree across the road."
There had been high winds across Wales on Saturday when the tree came down with gusts over 60 mph.
Other drivers stopped and called the emergency services while two police cars arrived and her car was later towed away.
"It's an insurance write-off," said Miss Morris.
"I've heard that a local man said the tree had been rotting away for ages," said Miss Morris, who is a student currently on a placement as a nurse.