Swansea council tax to rise by 5% amid cuts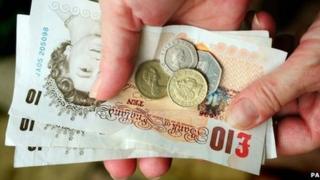 Swansea council has agreed to a council tax increase of 5% this year while it imposes cuts to save £26m.
It comes months after the authority said it was considering hundreds of job losses, closing care homes and raising car parking charges to save £45m over the next three years.
But council officials said the council tax increase would delay some cutbacks and prevent the need for others.
The budget was agreed at a full council meeting on Monday.
The council said they would not close any care homes until April 2015 at the earliest, and that plans to shut Pennard Library would now be postponed.
However, job losses would still go ahead.
About 173 jobs are at risk in the cuts - many through voluntary redundancy and early retirement - while 500 have already gone over the last two years.
"More efficient"
The council said it was trying to reduce the number of potential redundancies by retraining staff and being "smarter, leaner and more efficient".
Rob Stewart, Swansea council's cabinet member for finance and resources, said: "If we take action now to re-structure the council to be smarter, leaner and more efficient it'll mean our services will be more sustainable and we'll be able to protect jobs in the long-term."
Key features of the budget include:
• A 20% increase in funding for road repairs and potholes
• A commitment that no residential care home will close before at least April next year and older people and their families will be involved in the re-design of social services
• A £300,000 fund to help groups and organisations develop community-based services
• The proposed closure of Pennard Library put on hold to allow for a review of wider library services
• A review of all council fees and charges, including amendments for car park charges
• The withdrawal of proposals to discontinue school crossing patrols at six schools
The Welsh government is reducing its funding for Swansea council by 3.1%, leaving the authority with a potential shortfall.
Council leader David Phillips said: "Rather than respond by taking an axe to services and blindly cutting away, Swansea has taken a different approach.
"Our 'Sustainable Swansea - fit for the future' initiative aims to protect vital services and jobs as much as possible."