Injured Swansea prison worker Susan Cox has claim upheld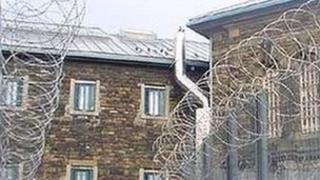 A prison catering manager seriously injured when an inmate dropped a 25kg (55lb) sack of food on her has had her compensation bid backed by top judges.
Susan Cox, 46, who worked at Swansea Prison, had previously had her claim rejected by the county court.
But, on Wednesday, the Court of Appeal ruled the Ministry of Justice (MoJ) was liable for the prisoner's negligence.
Ms Cox will be entitled to full compensation for her injuries which will be awarded at a later date.
The court heard she was injured in September 2007 while supervising six prisoners carrying food from a delivery van to the first-floor kitchen.
But an inmate became trapped in a service lift and a giant sack of rice spilled over the floor.
'Ignored her instructions'
She instructed the inmates to stop work while the spillage was cleared, but was struck by a falling sack of food as she bent down.
"What had happened was that another prisoner had ignored her instructions to stop work and had attempted to carry two sacks past her as she knelt," Lord Justice McCombe said.
"But he lost his balance and hit his head on an adjacent wall; one of the sacks which he was carrying then fell off his shoulder onto her back."
Ms Cox suffered agonising spinal pain after the incident and sued the MoJ for failing to keep safe her place of work.
But despite accepting the inmate who dropped the sack was negligent, Swansea County Court last year refused her claim for compensation.
However, Ms Cox's legal team argued on appeal the prison service was liable for the inmate's actions in the same way that it would be responsible for the negligence of any employee.
Lord Justice McCombe, sitting with Lord Justice Beatson and Lady Justice Sharp, said the "negligent prisoner" received £11.55 a week for his work in the kitchens and the prison service must therefore consider him an employee.
"The Ministry of Justice took the benefit of this work and I can see no reason why it should not take its burden," Lord Justice McCombe said.
"The work carried out by the prisoners in the present case relieved the Ministry of Justice from engaging employees at market rates of pay and with all the concomitants of an employment relationship.
"The work was clearly done on the ministry's behalf and for its benefit."