More TB screening at Ysgol y Strade after positive tests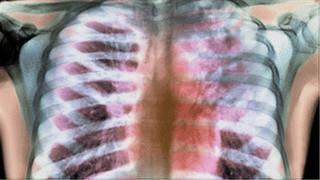 More than 700 staff and pupils at a Carmarthenshire school will be offered screening for tuberculosis (TB) after some earlier tests proved positive.
So far 339 pupils and 100 staff at Ysgol y Strade in Llanelli have been screened after a staff member was diagnosed with TB.
Of those, six pupils and three staff have tested positive for the infection.
Public Health Wales (PHW) said none was infectious and there was no risk of those affected passing it on to others.
Initial screenings were carried out at the school in October and December to those identified as being close contacts of the infected staff member.
As a precaution, further tests are now being offered to another 726 people at the school from 3 March.
Sion Lingard of Public Health Wales said those at the school who had since tested positive did not have an infectious form of TB.
"This next round of screening extends this to those with less contact, as a precaution, so that we can be satisfied that no one else within the school has been affected," he said.
"The infection is difficult to catch but treatable with antibiotics," Mr Lingard added.
TB is an infection usually found in the lungs, but any part of the body can be affected.
It can be spread if a person breathes in the bacteria found in tiny droplets sneezed or coughed out by someone who has TB in their lungs.
The most common symptom is a persistent cough for more than three weeks, with spit which can sometimes be blood-stained.
Other symptoms include weight loss, a high temperature, and sweating.
Public Health Wales said anyone concerned about their health should speak to their GP or contact NHS Direct Wales on 0845 46 47.