Team GB bobsleigher Bruce Tasker 'ideal weight,' mother says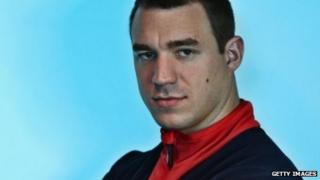 GB bobsleigh star Bruce Tasker is "a big chap" who likes his food - and that makes him perfect for the sport, says his mother.
Tasker, from Pembrokeshire, helped take GB's four-man bobsleigh team to within 0.11s of a medal at Sochi 2014.
His mother, Antonia, said her entire family were delighted by the performance.
Tasker has hinted that he now wants to take over the driver's role in the sled, if teammate John Jackson retires.
The 26-year-old was returning from the Winter Olympics in Russia on Monday.
His team managed to finish fifth in the bobsleigh competition, after being pushed off the medal podium in the final runs on Sunday.
"It was a fantastic performance - I don't think there's any disappointment there at all," his mother told BBC Radio Wales.
"Their start [of each run] is in the world class of starts. Very often they are the fastest or the second fastest as they go through their season.
"They have come fifth in the world against world-class athletes. Two teams that have beaten them [in Sochi] were on their home track."
"They've got a huge amount going for them. They work very hard."
Welsh sprinter
The bobsleigh brakeman's mother also revealed how a boy who grew-up in Manorbier found his way into the winter sport.
She said: "He ran for Carmarthen Harriers which is one of the best clubs in Wales.
"He did get a GB vest once when he was running but he was very heavy.
"He was a big chap - Bruce really enjoys his food - and he always was too heavy to cart round the track.
"So the bobsleigh boys saw him and he was ideal for the bobsleigh."
Tasker says he would love to move from brakeman to take over the driver's role in the sled if teammate John Jackson stands down.
He said: "It's something I would really like to move on to. It would be a good step for me to take next."
Tasker, who lives in Bath, has already said he is keen to try out the driver's role in the team.
He said: "I've already had a bit of a go. I think I took to it rather well."