Llanion Cemetery reopens as repairs continue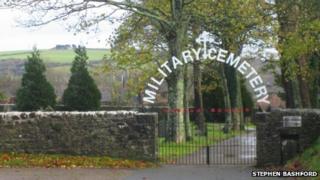 A military cemetery in Pembrokeshire which was closed after a sinkhole appeared last year has been reopened.
The Ministry of Defence (MoD) had warned it may have to exhume the bodies of six World War One servicemen at Llanion Cemetery in Pembroke Dock because the condition of some graves had deteriorated.
The MoD said it was confident repairs would be successful and exhumation would not be necessary.
But it said it could not be ruled out.
The cemetery was closed early in 2013 because of the poor condition of some of the graves, which date from both world wars.
It was reopened at the end of January and work to fill in the sinkhole is due to begin this week, ending in March.
An MoD spokeswoman said: "The chosen remedial option does not involve any exhumation and the MoD is confident that work will be effective.
"However in the extremely unlikely event that the option chosen is not effective the MoD will have to consider other options, some of which may involve exhumation."
The cemetery is the resting place for 23 Commonwealth service personnel from World War One, including two unidentified Royal Navy sailors.
It also has 51 World War Two Commonwealth burials, including four unidentified sailors and one airman.
The cemetery is managed by the Defence Infrastructure Organisation but 73 graves are the responsibility of the Commonwealth War Graves Commission.