Plan to save Garnant golf club approved by council board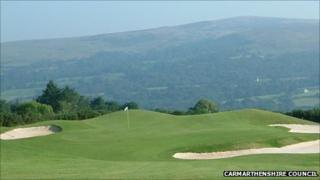 Plans to save a Carmarthenshire golf club by handing it over to its members have been approved by councillors.
Some £1.5m of public money was spent opening the Garnant course near Ammanford in 1998.
The company running it went into liquidation shortly after a subsidy from Carmarthenshire council was ended.
The council had said it was not aware Clays Golf, which ran the club, was in such financial trouble. It is now back in council ownership.
The golf club had said it "ran out of cash" and was unable to carry on.
The course, built on the site of a former open cast mine, had been given a total of £160,000 in subsidies over two years from the council because it was making a loss.
The council's executive board approved a rescue plan for the club at a meeting on Monday. The recommendation will now go before the full council.