Laverbread link to 12 salmonella cases in outbreak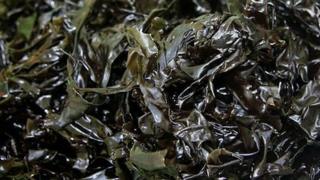 An investigation has been launched into an outbreak of salmonella possibly linked to laverbread seaweed.
Public Health Wales said there are 12 cases involving adults in the Swansea, Neath Port Talbot and Carmarthenshire areas, of which 10 ate laverbread in the days before they fell ill.
Three people have needed hospital treatment but all have been discharged.
Anyone who bought laverbread on Tuesday or earlier that may have come from Penclawdd is asked to throw it away.
Local firm Penclawdd Shellfish Processing Ltd has withdrawn sales of its laverbread as a precaution.
Product sampling carried out so far has not proved a firm link between the products and the outbreak and investigations are ongoing.
The product is available at a number of high street retailers and Penclawdd is the only supplier of laverbread to Tesco.
Dr Jörg Hoffmann, consultant in communicable disease control for Public Health Wales, said: "We know that the majority of cases have eaten laverbread produced by Penclawdd.
"The company has cooperated fully with our investigations and has chosen to voluntarily withdraw the product from sale as a precaution.
Traditional dish
"Laverbread is generally a safe product to eat, and it remains unclear whether it is indeed the source of this outbreak.
"However, given that we cannot rule out laverbread at present, it is very important that, to avoid the risk of illness, anyone with this product at home does not eat it."
Laverbread is the boiled and minced laver seaweed, often fried with bacon and cockles as a traditional Welsh breakfast dish. The seaweed is eaten worldwide, especially in Asia, and is often used in Japanese sushi dishes.
Salmonella is one of a number of organisms that gives rise to illness collectively known as food poisoning.
Infection with salmonella can cause watery and sometimes bloody diarrhoea, abdominal pain, headache, nausea, vomiting, and fever.
Anyone who is concerned about their health should contact their GP or call NHS Direct Wales on 0845 4647.