Dylan Thomas letters return to Laugharne boathouse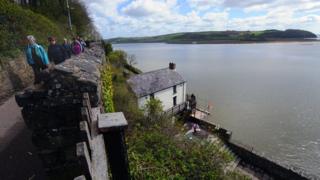 Letters written by Dylan Thomas while he lived at the Boathouse in Laugharne are going on display for the first time to mark the centenary of his birth.
The National Library of Wales is lending them to Carmarthenshire council, which owns the building.
New information panels detail his links with the house where he lived in the last four years of his life.
A spring edition of the DT100 event brochure will also be launched at the premises on Wednesday.
The Welsh government is producing 20,000 copies of the brochure, which will have a particular focus on Carmarthenshire but will be distributed across Wales.
Final years
The five new information panels installed at the Boathouse will focus on Dylan the man, Dylan the writer, his Boathouse letters and literature, the Boathouse years, and the end of his life.
Letters written by Thomas at the Boathouse and held by the National Library of Wales were sent to friends, family, literary agents, artists and writers.
The library said the letters revealed much about Dylan's final years, with topics including poverty, literature, poetry, death and love.
Meryl Gravell, Carmarthenshire executive board member for heritage and arts, said: "This is a key event in the DT100 calendar, with the launch of the spring events programme and the unveiling of the panels.
"There has always been a huge amount of interest in the Boathouse and Writing Shed and there is even more this year with the centenary of Dylan Thomas's birth.
"It is good to see so much attention being focused on his links with Laugharne and Carmarthenshire."