Plaque unveiled for 200th anniversary of Seren Gomer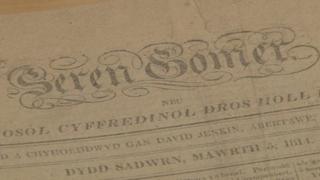 The 200th anniversary of Wales' first Welsh-language newspaper has been marked with a ceremony honouring its Pembrokeshire editor.
A plaque has been unveiled on the village green in Wolfscastle, near Haverfordwest, in the parish where Joseph Harris was born in 1773.
The first edition of his weekly Seren Gomer (Star of Gomer) paper was published on 1 January, 1814.
It folded after 85 issues due to a lack of advertising but was revived in 1818.
It had been a broadsheet newspaper but from 1818 it was reduced in size and was published every fortnight. In 1820, high newspaper taxes saw it turn to a monthly publication.
Worked 'zealously'
Harris was the son of a farm bailiff, who became a Baptist minister after being inspired by a religious revival in 1795. He went on to publish books of hymns.
After marrying he moved to Swansea in 1801, and from there he started his newspaper 13 years later.
The Reverend Geoffrey Eynon, who has organised Saturday's ceremony in Wolfscastle, said Harris, who was also known by his bardic name of Gomer, worked "zealously for the Welsh language".
"He was regarded as the father of the Welsh newspaper, for his Seren Gomer was the first all Welsh weekly which saw the light of day on 1st January 1814," he said.
"Unlike the English language weeklies which mainly published local news, Seren Gomer was a national newspaper for the whole of Wales."
Prys Morgan, a retired professor of history at Swansea University, said in the late 19th Century Seren Gomer was sold to some Baptist ministers and the paper became a magazine for the denomination.
"It continued in various shapes and sizes until 1983," added Prof Morgan.
"By the 1840s and 1850s there were other newspapers taking the place of Seren Gomer, such as The Reformer in Llanelli in 1839.
"But Seren Gomer is regarded as the first Welsh language newspaper in Wales."
The plaque was unveiled in Wolfscastle by John Walker Williams, a descendant of Joseph Harris