RNLI lifeguards in Wales gearing up for Easter and summer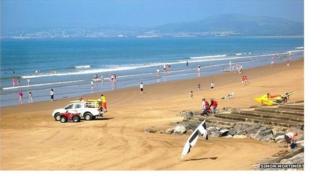 Nearly 2,000 people got into trouble on Welsh beaches last summer, and this weekend RNLI lifeguards are back on patrol.
New recruits have been put through their paces in preparation for Easter weekend and the summer season.
Good weather has been predicted for much of the weekend and lifeguards are at three beaches along the coast.
In 2013, the RNLI responded to 32% more incidents than the previous year.
Over Easter, the life-saving charity will be on hand at Aberavon, Neath Port Talbot, Whitmore Bay in Barry Island and Tenby South Beach, Pembrokeshire.
In the last few days the RNLI's Stuart Thompson has been in charge of training.
They have been on dry land at Caswell Bay, Gower, but Mr Thompson has been preparing to get them on the water.
"We're putting them through their paces in the sea using the rescue equipment," he said.
"We're going to be practising some rescues from the rocks and testing their competencies in the open sea and see how they get on.
"Last summer was a very busy summer, one of the busiest summers we've had in many years with the good weather we were fortunate to have."
He said lifeguards will be patrolling 17 beaches along the south Wales coast over the summer.
Among them will be Rhys Edwards, 19, from Swansea, who volunteered last year but this summer will be his first paid season on the job.
"I love it, working down here on the beach, there's nothing better you can do, really," he said.
"Anything can happen, first aid, rescues in the water. I'm really looking forward to this season - it should be busy with nice weather."
Mr Thompson added: "RNLI lifeguards are trained to respond to a range of incidents both on the beach and in the water.
"We work with the ambulance service as first responders to deal with minor and major first aid incidents, rescue people from rip currents as well as assisting other emergency services to help search for missing children.
"It was great to see thousands of people enjoy the hot weather on Welsh beaches last summer and hopefully we'll see more of the sun again this year."