Four rescued from Oxwich Bay overturned speedboat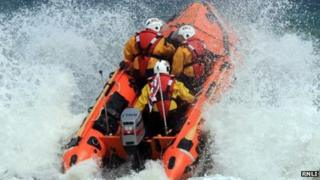 Four people were thrown out of a speedboat that had been "playing" in the wake of a larger boat, say RNLI volunteers who brought them to shore.
The adult and three teenagers were picked up by a nearby vessel after their rigid inflatable boat overturned in Oxwich Bay, Gower, on Easter Monday.
They were transferred to the Horton and Port Eynon RNLI lifeboat, which towed the upturned boat to shallow water.
Spokesman Lawrie Grove said: "It is fortunate that no-one was injured."
The lifeboat was launched when the alert was raised shortly after 16:00 BST.
Mr Grove, the lifeboat operations manager, said the RNLI crew righted the overturned speedboat and towed it to shore in Oxwich Bay.
'Killcord'
He said those rescued were lucky the boat did not land on top of them as it turned over.
He added: "I would remind boat users that they should always exercise caution when handling a boat at sea.
"Also, they should ensure that when operating a powered boat that an engine killcord is used".