Kevin Beurle Turkey balloon death avoidable, coroner says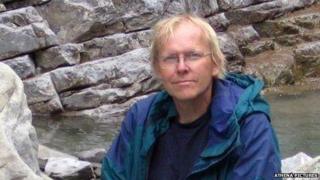 A hot air balloon crash in Turkey which killed a space scientist could have been averted, a coroner has said.
Swansea-born Kevin Beurle, 53, died when the balloon touched the basket of one above it, at about 150-200m.
Philip Rogers said he did not think it would have happened if they had taken off further apart or with a bigger time gap.
Criminal proceedings against two pilots meant he could only record an accidental death verdict.
Dr Beurle, who worked at Queen Mary University, London, died of multiple injuries.
The pilot and nine passengers were hurt, including Dr Beurle's partner.
They were among a group of 33 tourists who took off in three hot air balloons within two or three minutes of each other in Cappadocia in central Turkey in May 2009.
The inquest was told that weather conditions were good but within minutes of take-off the balloon carrying Dr Beurle made contact with the basket of the one above, creating a tear.
'Vague memory'
Passengers were told to get ready for a crash landing as the pilot used burners to try to fill the balloon with hot air to slow its fall.
Dr Beurle's partner Juliet Boas told the hearing that she had a vague memory of seeing him at the bottom of the basket after the crash. But she lost consciousness, and later woke up in hospital.
An air accident report later described the probable cause as "attributable to air currents as a result of sudden changes in meteorological conditions after take-off".
Wyn Morgan, a former chief technical officer of the British Balloon and Airship Club, said it would have been more appropriate if there had been 15 minutes between the take-off of each balloon.
Mr Morgan said they did not need to have been that close.
Dr Beurle, a former pupil of Bishop Vaughan Catholic School in Swansea, was brought up in the West Cross area.
He had joined the Astronomy Unit at Queen Mary University in 1991, and was described as an "invaluable member" of the group behind the 1997 Cassini satellite mission to explore Saturn.
After his death the university said it was "deeply shocked and saddened" by "an extremely popular member of staff".