Welsh pair kayak from Land's End to Pembrokeshire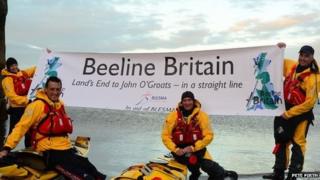 Two Welsh fundraisers are among four who have kayaked non-stop from Land's End to Pembrokeshire.
Tori James, of Pembrokeshire, and Adam Harmer, from Llanberis, Gwynedd, completed the 200km (124 miles) journey with two colleagues.
The team paddled for more than 34 hours, with little sleep.
It is the first leg of their attempt to become the first people to travel from Land's End to John O'Groats in a straight line.
The Beeline Britain team's charity challenge began in Cornwall on Sunday and will span 1,100km (683 miles) over 18 days.
They face a further 18 legs of travel including road cycling, mountain biking and hiking over the UK's second highest peak - Ben MacDui in Scotland - before they reach their destination.
The group is aiming to raise £20,000 for BLESMA, which supports service men and women who have lost limbs or their sight whilst representing their country.
The team of four includes Ms James, who at 25 became the first Welsh woman to climb to the summit of Mount Everest.
She is joined by Paralympian Nick Beighton, a former captain in the Royal Engineers who lost both his legs above the knee when he was struck by an IED explosion on duty in Afghanistan in 2009.
He will use a range of specially designed equipment including an adapted sea kayak, custom-built hand-cycle and prosthetic legs with crutches.
Also attempting the journey is RAF helicopter crewman, Ian O'Grady, who came up with the challenge, and Adam Harmer, of Llanberis, who is a senior lecturer at Liverpool John Moores University and an outdoor instructor.