Air cadets unveil D-Day landings model in Swansea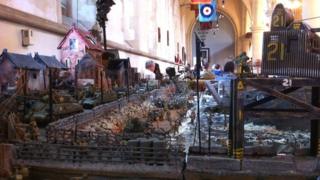 A model of the D-Day landings which took three years to build has been unveiled at a service in Swansea to mark the mission's 70th anniversary.
The 14 square foot (1.3 sq m) depiction was on show during a service held by the city and the Royal British Legion at St Mary's Church.
Air cadets from 215 City of Swansea Squadron built the £3,000 model in tribute to those who fought on D-Day.
It will be on public display until 12 November.
Welsh veterans of the D-Day landings in World War Two returned to northern France on Friday to mark the 70th anniversary of the invasion which ultimately led to victory over Nazi Germany.
They were among about 2,000 surviving veterans attending events to honour the bravery of those involved.
Sunday's service in Swansea was attended by the city's Lord Lieutenant, High Sheriff, Lord Mayor, World War Two veterans and the public.
The model of the landings has already received more than 1,500 hits on the Royal Air Force Facebook page from as far afield as France and the United States.