£200,000 needed to save Narberth swimming pool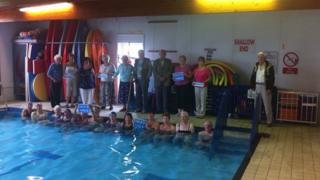 Volunteers in a Pembrokeshire town have called on the community to help save their local swimming pool.
Friends of Narberth Pool are hoping to raise £200,000 by the end of June through a community share offer and donations.
Pembrokeshire council's cabinet voted in December to hold a consultation about the future of the pool.
There were plans to close it on 1 April as the authority looks to make £20m in savings.
But the doors remain open while local people attempt to fund a rescue bid and continue discussions with Pembrokeshire council.
The Friends of Narberth Pool are hoping to buy a biomass boiler and solar panels to make the building more sustainable and cut running costs.
Pembrokeshire council has accepted a business plan drawn up by the community group, but the focus is now to raise the necessary funding.
"It's a sustainable and realistic plan," said group chair Sue Rees.
"We have to prove to Pembrokeshire council that we can raise the money.
"We're doing quite well at the moment but we need anybody who's interested to contact us and their names on the list to buy shares."
The 20m pool opened in 1973 and is used by a mix of people such as Ann Watkins, from Stepaside, who attends the over-55s swimming sessions.
She said it was "more friendly than the bigger pools".
Councillor Elwyn Morse, cabinet member for leisure, said Pembrokeshire council was keen to find a solution to retain the pool.
"We've given them an extension of three months - extra time for them to come up with the money," he said.