Swansea to leave some grass uncut to attract wildlife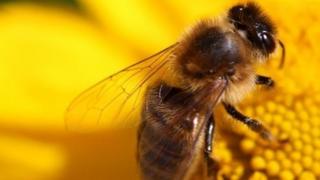 Parts of more than 30 parks in Swansea along with some grass verges will be left uncut in a bid to encourage wildlife and insects to return.
It is hoped the move will also create havens for bees and other pollinators.
The trial by Swansea council follows a wild flower initiative it launched last year along with a Welsh government call to promote biodiversity.
But it is also being used as a way to deal with cuts to funding for grass cutting.
"This is a pilot project to create meadowland in an urban environment," said Swansea council cabinet member June Burtonshaw. "There are clear benefits for local flora and fauna.
"The wild flowers initiative last year was a terrific success and apart from creating a blaze of colour in unexpected places we're also expecting it to help promote bio-diversity as well."
Parks which have seen sections given over to meadow include Singleton Park, Morriston park, Ravenhill park and Garden Village recreation ground but none will be totally left uncut.
They will be monitored throughout the year and will be cut during the winter months which will help native wild flowers and grasses to develop.
Sybil Crouch, the council's cabinet member for sustainability, said: "Other councils across the UK have been doing similar things in their parks too.
"But we shouldn't forget either that there are economic benefits as well. Pollinating insects like bees and butterflies contribute millions of pounds annually to the crop market.
"But there's a risk to this success story because honeybees, for example, saw a 23% decline in Wales in the 20 years between 1985 and 2005.
"That's one of the reasons why we need to do more."