University of Wales Trinity Saint David's Dylan Thomas awards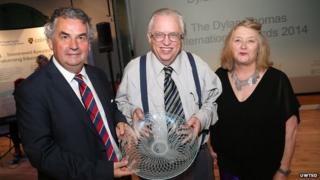 The winners of two international awards launched for this year's Dylan Thomas centenary have been named.
Martin Willitts Jr, from New York, won the University of Wales Trinity St David (UWTSD) award for his poetry composition "Daffodils".
Ruth Morriss from Swansea won the glass award for her work, also on the theme "Harmony".
The university is now considering whether it is an annual or biennial competition.
The £2,000 poetry award was judged by renowned Welsh poets Grahame Davies and Menna Elfyn, who plumped for the American winner.
A Quaker, poet, organic gardener and retired librarian from Syracuse, Willitts has been published both online and in print, including many anthologies with Cinnamon Press in Wales.
Natural landscape
UWTSD's Swansea School of Glass is the only architecturally based glass school in the world and Ms Morriss's winning entry was chose from 21 shortlisted works from across the UK, France, Estonia and New Zealand.
The artist, who wins £1,000, said: "Exploring the Swansea coast line, the Laugharne Estuary and Rhossili beach has inspired this work. Reading Dylan Thomas's story 'Who do you wish was with us?' which is about a visit to Rhossili and Worrms Head also impacted the work.
"The images and musicality within its writing creates a certain harmony, The natural landscape seems to flood into his work."
The prize was judged by Hannah Ellis, Dylan Thomas's granddaughter, Glenys Court - a friend of the late poet, Caroline Benyon, chairwoman of the British Society of Master Glass Painters, and UWTSD vice-chancellor Prof Medwin Hughes.
Ms Morriss's work will be exhibited at Swansea's National Waterfront Museum until October.
Two other awards were also made at Saturday's ceremony.
The Dylan Thomas Student Art and Design Award went to Carina Roberts for her painting which was based on her listening to Dylan Thomas reciting his prose about Laugharne.
Young composer, Gower College Swansea student Tom Olsen, was the winner of the Dylan Thomas Schools Award for Musical Composition.