Blue plaques for poet and polar hero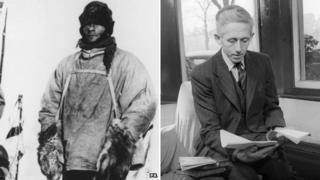 Polar explorer Edgar Evans and poet Vernon Watkins - a close friend of Dylan Thomas - are each to have a blue plaque in their honour in Swansea.
Evans was the first Welshman to reach the South Pole when he perished with Captain Robert Scott on the doomed 1912 Antarctic expedition.
Watkins was a member of Thomas's group of friends known as the Kardomah Boys after the cafe where they met.
Watkins' blue plaque will be unveiled on 29 October and Evans' in November.
Evans, from Middleton, Gower, was part of Scott's expedition which set off from Cardiff Nova in 1910 with the aim of becoming the first expedition to reach the South Pole.
But they were beaten to it by a Norwegian team led by Roald Amundsen.
They ran out of food during their return from the pole and perished.
His blue plaque will be unveiled at Middleton on Thursday 27 November.
'Deserving'
Watkins, a painter as a well as a poet, was a great friend and admirer of Thomas and wrote his obituary for The Times.
The Kardomah Boys were peers of Dylan Thomas who used to meet at the Kardomah Cafe in Castle Street during in the 1930s.
The blue plaque commemorating his life will go up outside the St Helen's Road building that formerly housed the Lloyds Bank branch where he worked for 38 years.
Other blue plaques in Swansea honour include Emily Phipps, a campaigner for women's suffrage; Griffith John, a missionary who was the first man of his kind to step foot in China; and Pete Ham, the founder of 1970s rock group Badfinger.
Councillor Nick Bradley, Swansea council's cabinet member for regeneration, said: "Edgar Evans and Vernon Watkins are great examples of the varied lives and achievements so many Swansea people have gone onto lead or accomplish.
"One was among the first ever people to step foot on the South Pole, the other was one of the most venerated poets of his time - so they're both thoroughly deserving of being honoured by blue plaques."