Swansea city centre link road to Liberty Stadium to start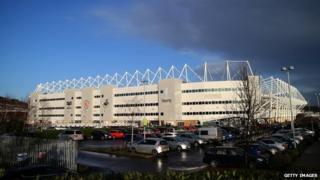 The first phase of a £4.5m road which links Swansea city centre to the Liberty Stadium will begin in late October.
The Morfa distributor road will run parallel to the River Tawe, and it is hoped it will also attract businesses to set up along the route.
It should help reduce traffic pressures on Neath Road in Hafod which suffers from high pollution levels.
The road is expected to take three years to build.
As well as easing congestion at rush hour, the road should also improve traffic flow when matches take place at the Liberty.
Preparatory work to stabilise a canal wall and improving links to the Hafod Copperworks site has already been completed.
"The work is not directly linked to the existing highway network and is not near any residential properties so we expect there to be minimum disruption for residents and motorists," said June Burtonshaw, a cabinet member at Swansea council.
"The road will provide direct access to a number of development sites along the banks of the River Tawe and is essential to attract investment in the area."