WW1 VC hero William Fuller's Laugharne paving stone honour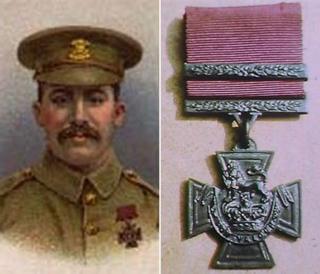 The first Welsh recipient of the Victoria Cross for gallantry in World War One has been honoured in his home town in Carmarthenshire.
L/Cpl William Fuller, of 2nd Battalion Welsh Regiment, rescued a wounded officer under heavy gun fire near Chivy-sur-Aisne in France exactly 100 years ago.
The 30-year-old, the first of 16 Welsh VCs, received the medal from King George V in 1915.
A paving stone was laid in Laugharne.
L/Cpl Fuller saw out the conflict as a recruiting sergeant after being injured a month after rescuing Capt Mark Haggard, who died of his wounds.
He also served in the Home Guard in World War Two and died aged 90 in 1974.
Relatives of the ex-serviceman were present when the paving slab was unveiled by his daughter Muriel Crooks, 91.
The ceremony at Laugharne Memorial Hall included the playing of the Last Post and a two-minute silence.