Swansea Sound in tune with radio listeners for 40 years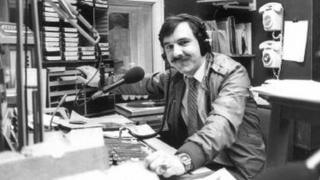 The oldest commercial radio station in Wales credits its success to staying in tune with the local audience, as it celebrates 40 years on air.
Swansea Sound was the UK's seventh independent local radio station when it launched on 30 September, 1974.
Past and present staff will gather for a party at the city's Brangwyn Hall.
Senior programmer Steve Barnes said while other stations were merging into larger operations, "we've remained firmly rooted in our community".
Feeding the community's thirst for pop music, Swansea Sound soon grabbed a quarter of the available local audience when it ended the BBC's half-century radio monopoly.
But as well as pop music, they became the first station to broadcast regular Welsh-language programming, and even aired choral and country music shows.
In 1995 its FM frequency broke off to form Sound Wave - now 96.4 The Wave - aimed at the next generation of listeners.
But the original Swansea Sound continues on medium wave (1170 AM) and digital platforms.
When Swansea Sound first went on air in 1974:
The biggest hit of the year was The Three Degrees with When Will I See You Again
Electronic monitors were slowly replacing canaries as a means of detecting carbon monoxide in Welsh mines
Harold Wilson had returned as prime minister of a minority Labour government after a general election in February - he called another poll in October and secured a small majority
Inflation in the UK stood at 17.2%
Richard Nixon was resigning as US president after the Watergate affair
John Dawes had just been appointed Welsh rugby coach
The average house in Wales cost £9,000
The most popular car of the year, a Ford Cortina, cost £650 for the 1.3L base model
Senior programmer and former DJ Steve Barnes said it remained just as relevant as it was in 1974.
He said: "Local radio is changing rapidly now, and there's an increasing drive to cut costs by merging into larger and more generic stations, but I believe that the key to Swansea Sound's continued success is that we've remained firmly rooted in our community.
"We take the time to know our audience, and what they care about, and I'd like to think that's reflected in our programming, from sport to local bands, to arts and politics."
'Glamour'
Until the first round of Independent Local Radio (ILR) licences were awarded in 1973, the only competition to the BBC had been the "pirate" stations such as Radio Caroline, which used a legal loophole to broadcast from ships in international waters until legislation in 1967 forced their closure.
Mr Barnes said Swansea Sound in the 1970s saw itself as the natural successor to the pirate stations.
"The government and BBC were slow to react to the fact that people didn't want to be told what to listen to, they wanted a radio station which reflected their lives," said Mr Barnes.
"The pop music legacy of pirate radio helped establish the ILR stations, but it was more to do with the fact that we were on people's doorsteps.
"You still had the glamour of the pirate radio DJs, but for the first time they were talking about places you knew."
The station, which was where BBC TV news presenter Huw Edwards began his media career doing work experience, will mark Tuesday's anniversary with a celebration at the city's Brangwyn Hall.
As well as the current line-up, guests include former presenters such as Rob Pendry, Stuart Freeman and Steve Dewitt.