Swansea on course to recycle 56% of waste this year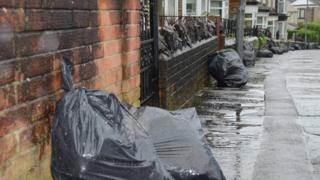 Waste sent to landfill in Swansea has been reduced by 3,600 tonnes this year thanks to restrictions on black bags, the city council says.
A limit of three bin bags per fortnight was brought in this April in a bid to bring the city closer to Welsh government recycling targets.
Each authority must recycle 58% of its refuse by 2016.
Last year Swansea managed 52%, but is on course to hit 56% this year.
Door-to-door teams have also been advising residents on what can be recycled, and ways of reducing waste.
Mark Thomas, cabinet member for environment and transport said: "We can't become complacent about waste disposal. There is still much more to be done to comply with ever increasing targets and costs.
"We need all residents to do as much recycling as they can to help Swansea reach these targets."