Haverfordwest's 900-year-old fair at risk, say traders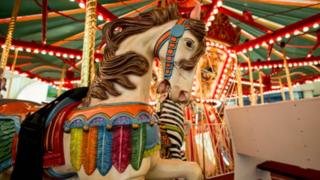 Haverfordwest could lose its 900-year-old fair, according to traders and ride operators.
The Showmen's Guild said moving it to a smaller site further out of town has cost its members money.
The October fair moved from its usual St Thomas Green site to Scotchwell car park but they say it should have been temporary until a new venue was found.
Pembrokeshire council said following a consultation it has now decided to make the move permanent.
Stephanie Jenkins, south Wales secretary for the Showmen's Guild, said: "Scotchwell could only ever be a stop-gap - it's too small, too far off the beaten track.
"It's such a shame. Some of our members' grandparents were coming each year to Haverfordwest and the rides and entertainments have been passed down the family.
"But if they can't make ends meet at Scotchwell then nostalgia alone isn't going to pay their bills."
Negative reaction
She added: "There used to be three fairs a year at Haverfordwest.
"We've already lost two, and unless we can find a more suitable site then the October fair will go as well."
The St Thomas Green site was cleared to make way for a leisure centre and the Showmen's Guild believes there are two venues within the town which would be more suitable.
But Pembrokeshire council said the decision stands.
A council spokesman said: "It has been decided the fair will remain at Scotchwell car park.
"This follows a public consultation by the council - in conjunction with the Showmen's Guild - looking at other possible locations.
"The consultation showed there was more support for Scotchwell, while there was generally a negative reaction to the fair moving to Castle Lake and Rifleman's Field."