Police inquiry into Pembrokeshire council chief dropped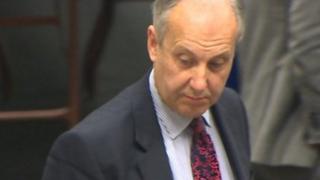 A police inquiry into payments made to Pembrokeshire council's chief executive has been dropped after "no criminal offences" were found to have occurred.
It looked at cash payments made to Bryn Parry-Jones in lieu of pension contributions.
It followed an inquiry by the Wales Audit Office which said the council acted unlawfully by letting him opt out of a pension scheme to avoid tax.
Police said no further action would be taken on the matter.
It is the second police inquiry into Mr Parry-Jones after an earlier investigation found no evidence to suggest any criminal offences.
The latest inquiry also found no criminal offences.
A spokesman for Dyfed-Powys Police said that due to its close working relationship with Pembrokeshire council, officers from the Gloucestershire Constabulary had carried out both inquiries.
"Gloucester Constabulary have now completed their inquiries and have confirmed that following an objective and independent analysis of the evidence, they did not find any evidence to suggest that any criminal offences had taken place," said the spokesman.
"On the basis of this, Dyfed-Powys Police will be taking no further action in relation to these matters. The local authority have been advised of this decision."
Payments row
Since the Wales Audit Office report, Mr Parry-Jones has been under pressure to resign from his post.
In July, Pembrokeshire council said it would take no further action to reclaim the money from him and another unnamed senior officer involved in a similar arrangement.
He took a "leave of absence" in August, but it has since emerged that part of it coincided with his annual leave.
And, earlier in October, BBC Wales reported how a severance deal to Mr Parry-Jones was being considered.
A member of the council's Disciplinary Investigation Committee said they will consider the proposal for Mr Parry-Jones on 16 October.
The committee, which is politically balanced, was set up following a vote of no confidence in Mr Parry-Jones in September, which saw 46 councillors against him, with three supporting him and three abstentions.
The panel has the power to suspend the chief executive while alleged misconduct is investigated.
Pembrokeshire council has declined to comment on the police inquiry being dropped.