Dylan Thomas' bounced cheques to pub landlord for sale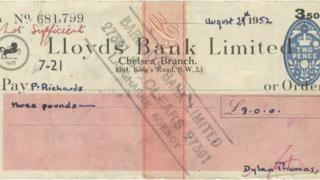 Two bounced cheques made out by poet Dylan Thomas to the landlord of his local pub are to be auctioned.
The cheques and other Thomas memorabilia are going under the hammer in London next month.
The £3 cheques - dated 29 August 1952 and 30 August 1953 - were made out to Phil Richards, the landlord of The Cross House Inn pub at Laugharne, Carmarthenshire.
Auctioneers Bonhams are estimating the value of the memorabilia at £3,000.
The Cross House Inn was one of Thomas's regular haunts when he lived in Laugharne from 1949 to 1953.
Drinking venue
The pub and the probably better known Brown's Hotel in the town contributed to the fictional setting for the radio play, Under Milk Wood.
The last of the poet's bounced cheques was written a few weeks before Thomas left on the tour of America during which he died on 9 November 1953.
They are drawn on a branch of Barclays Bank in London where the poet also lived and worked and where much of Under Milk Wood was written.
An author's presentation copy of the first edition of Thomas's Collected Poems dedicated 'to the Richardses' and dated November 1952, the month of its publication, is also for sale with an estimated price of £1,000-£1,500.
A third lot of photographs, signed books and other memorabilia has an estimated sale price of £600-£800.