Gower home voted best in Britain by industry experts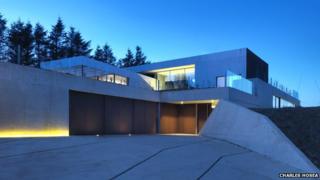 A modern home described as a "contemporary castle" in Gower has been named Britain's best new house after being awarded the 2014 Riba Manser Medal.
Stormy Castle, on Llanmadoc Hill, triumphed over six other contenders for the prestigious Royal Institute of British Architects award.
The three-bedroom property was designed by Penarth-based architects Loyn & Co.
Riba praised the 'bold design' at the award ceremony in London on Thursday.
Project designer James Stroud said: "Winning the award is the proudest moment of my career.
"We are delighted. It was a privilege to be shortlisted and to win is just unbelievable.
"The recognition is wonderful. The quality of the other entries was very high.
'Breathtaking'
Manser Medal chairman Michael Manser said the winning entry was a "bold design in an area of Wales where arguably more conservative design solutions usually hold sway".
The award was the second accolade for the Gower home as it had already won a gold medal at the National Eisteddfod.
.