WW1 soldier Paul Girardot was painted by his mother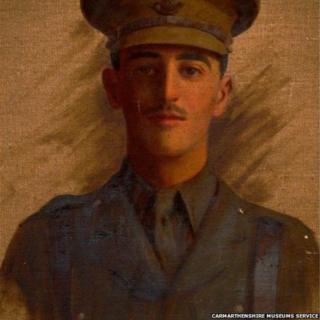 The mystery of a World War One painting held by Carmarthenshire Museums Service has been solved.
It is thought that 2nd Lt Paul Chancourt Girardot was painted by his mother, Mary Girardot, who was an artist from Trevaughan.
She is said to have painted him after he died in the second month of the war at the age of 18.
The identity of the soldier was revealed earlier this year.
His identity was initially discovered by Art Detective, a website where experts try to piece together missing information about paintings.
A member of the public made the latest link between the artist and the soldier and the collection then found the signature "Girardot" on the back of the painting.
Beloved child
2nd Lt Girardot was widow Mary Girardot's only son and it is now thought she created other works in remembrance of him.
A stained glass window in Holy Trinity Church in Kensington, dedicated to the soldier, is said to have been commissioned by her.
The collection also found his grave at Soupir Churchyard in France, which reads: 'In most loving memory of my beloved child - Mother'.
War hero
It has also been revealed that he was the son of Lt Col John Francis Girardot who served with the 43rd Oxford and Bucks Light Infantry, which he also fought with.
Lt Col John Girardot was thought to have been in command of the soldiers on board the HMS Birkenhead, which sank off the coast near Cape Town in 1852.