Garden ornaments ban after elderly Clydach residents row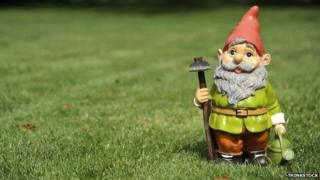 Garden ornaments have been banned at a sheltered housing complex after police had to be called to stop months of rows between elderly residents.
Swansea council said the dispute concerning the communal garden at Waverley Close in Clydach had provoked threats and intimidation.
One 80-year-old man had to be taken to hospital after suffering an angina attack after an argument.
South Wales Police confirmed residents had been "spoken to".
In a letter to tenants, a Swansea council housing officer said the dispute had sparked "accusations of theft, financial inconsistencies and damage to the communal areas".
Now Swansea council has said all ornaments and furniture must be removed from the shared garden.
A letter issuing the order expressed regret that: "the behaviour of a small minority of residents has resulted in this decision being made".
"However, there is no other option available to us as landlords to ensure the health and well-being of all residents".
A council spokesman confirmed the issues were under investigation and options for a resolution were being considered.