Swansea civic centre could be sold for redevelopment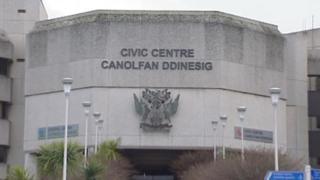 Swansea's civic centre could be sold off for redevelopment.
The building is on prime land overlooking Swansea Bay and it is hoped the location will attract buyers wanting to develop the site.
Swansea council is open to the idea of selling the centre to raise much-needed funds, as well as it forming part of regeneration plans.
New Swansea council leader Rob Stewart said a new home for the authority could be in the city centre.
The civic centre, formerly known as county hall, was opened in 1982.
Mr Stewart has already decided to move the council's cabinet and senior management from there to the Guildhall.
"It's certainly in the mix (to be sold)," he told BBC Wales. "It's certainly something we are keen to see happen."