Narberth pool campaigners hit funding target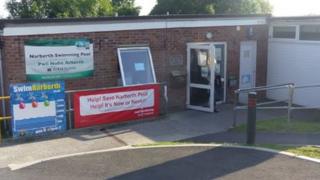 A Pembrokeshire swimming pool has been saved from closure after a community group hit its funding target of £130,000.
Narberth pool was set to close its doors for good in April 2015, if the community did not raise the cash.
They were given an extended deadline by Pembrokeshire County Council to meet the funding target.
Campaigner Sue Rees said: "We had to get £130,000 by 1 November - we've actually excelled that."
She added: "We have re-instigated talks with Pembrokeshire County Council to ensure the pool is not closed."
The £130,000 was needed to buy and install a biomass boiler, but funding is still needed for solar panels on the roof.
'Massive feat'
However, the group, SwimNarberth, is confident this target can be met too.
Ms Rees thanked everyone for their support and called the fundraising a "massive feat".
She said: "Lots of people said it was impossible to raise that amount of money in just a few months but we have proved them all wrong."
"We'll be opening to the public on Monday, and all the schools that swum here before will now coming back."