Bryn Parry-Jones pay-off halted amid 'unlawful' cost concerns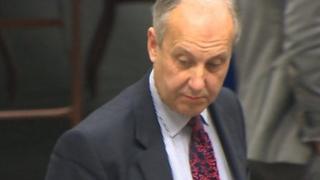 Pembrokeshire council has been told to halt a £330,000 pay-off deal for its chief executive.
The public spending watchdog, the Wales Audit Office, says the deal could lead to "unlawful expenditure".
Councillors voted in favour of the pay-off for Bryn Parry-Jones in October in order for him to quit his job.
The council says it has reached an agreement with officials, and says the order will be lifted on Thursday.
However, the audit office says it is waiting for a formal response from Pembrokeshire council before deciding on any action.
'Unprecedented action'
The WAO's appointed auditor Anthony Barrett said the payment notice was served on the council on Tuesday.
He said: "I feel I have no option but to exercise my statutory responsibilities and take this unprecedented action."
A council spokesman said an agreement has now been reached on how the pay-off deal will be worded to resolve the WAO's concerns.
"The council will not be incurring any unlawful expenditure," insisted the spokesperson.
Councillors voted in favour of the pay-off deal following the fallout from cash payments made to Mr Parry-Jones in lieu of pension contributions that the WAO said were unlawful.