Rescued dog 'Kayak' suffers fractures in River Sawdde plunge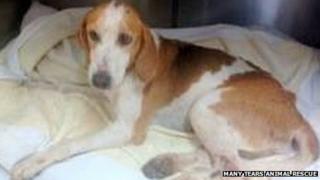 Vets maybe unable to save a dog "bashed about" in a powerful Carmarthenshire river after x-rays show it suffered multiple injuries, say rescuers.
Kayakers rescued the foxhound from a river bank at Llangadog on Saturday.
The dog, nicknamed Kayak, is being cared for at TV "Supervet" Noel Fitzpatrick's unit in Surrey.
It is believed the dog went into the river upstream and was hurt on rocks while in the water which kayakers regard as "challenging".
Sylvia Vanatta from Many Tears Animal Rescue in Llanelli is trying to save the dog after taking it in on Saturday.
Renal failure
She drove Kayak to the unit - known for carrying out orthopaedic or "bionic" surgery - on Sunday after being referred by her own vet.
"Kayak has had x-rays which show multiple fractures of her pelvis and hip and there are also concerns about the function of her kidneys," said Ms Vanatta, in an update on the rescue centre's Facebook page.
"They can mend the bones but not if she is in renal failure.
"After a day on fluids they will decide how to proceed but the vet warned me she had been bashed about so much they may not be able to save her."
Ms Vanatta is appealing for help to raise funds to look after the dog which was found by kayakers Lee Nulty and Geraint Sullivan.
They believe Kayak was swept down the River Sawdde.