Hospital delivers its first baby in 45 years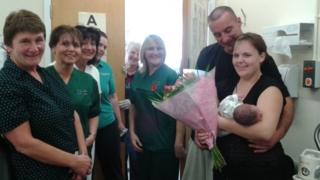 A community hospital has delivered its first baby in 45 years after a mum-to-be had to make an emergency stop.
Rhiannon and Luke Thomas were heading to a maternity ward 45 minutes away when she shouted: "The baby's coming."
They pulled into Llandovery Hospital, Carmarthenshire, where a blood donor session was being run, but its maternity ward shut in 1969.
Mrs Thomas's midwife arrived just in time and a healthy 7lb 7oz baby Isaac was born early.
Mrs Thomas, 22, said: "I knew it was just a community hospital but we didn't have time to get to the maternity hospital because he was so quick.
"Luke was panicking a bit because he didn't want to deliver him in the back of the car.
"We had only been driving for 10 minutes when I knew we weren't going to make it to the maternity ward.
"But then he saw the ambulance at the local hospital and pulled in to shout for help."
They pulled into Llandovery Hospital rather than carrying on to the Glangwili General Hospital in Carmarthen where there is a full maternity ward.
She said: "The doctor and nurses were brilliant. They even a hospital bed with gas and air."
Mrs Thomas entered the surgery at 09:15 GMT last Wednesday and gave birth to Isaac Luke Jack Watson 43 minutes later.
Anthea Moore, from Llandovery Hospital, said the 22-year-old "pulled up in a car screaming".
She added: "A doctor from the GP surgery across the road came... it was quite exciting."
Husband Luke admits he was worried, but thanked the hospital for their "brilliant" work.
He said: "They were not expecting it, that's for sure."