DVLA marks 25 years of personalised registration plates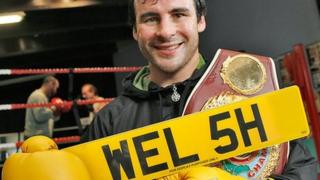 The DVLA has raised more than £2bn for the Treasury in 25 years of selling personalised registration plates.
To mark the occasion, the Swansea-based agency is holding its 150th auction on Wednesday when several Welsh-themed registration plates will go under the hammer.
Patriotic motorists can get their hands plates including WEL 55H, CY07 MRU and WA11 LES.
Since 1989, the DVLA has sold more than 4.2 million registrations.
Among the Welsh-themed registration plates which have sold for the highest price are W4 LES (£6,000), S10 NED (£7,600) and WEL 5H (£27,200).