Inquiry into Morrisons contaminated petrol from Murco, Milford Haven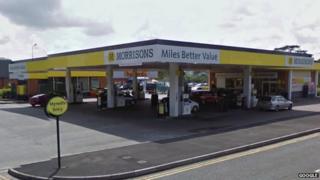 Murco is investigating how contaminated fuel was delivered to west Wales supermarkets from its Milford Haven refinery.
Cars broke down after motorists bought unleaded petrol from Morrisons forecourts in Carmarthen and Llanelli.
Any motorist who thinks their car has been affected is advised not to start their vehicle and to contact Morrisons.
Sales of unleaded petrol have been halted at the two stations.
Motorist Marc Skone bought £40 of petrol from the shop but only got 100 metres from the station forecourt when his car broke down.
He said: "It has cost £150 plus VAT to drain the tank. So that's around £210 that has left my account this morning, something I can't afford with Christmas coming."
'Reimbursed'
Morrisons said the pumps would not reopen until it was confident the problem has been resolved.
The spokeswoman added: "We apologise to those motorists affected and are doing everything we can to support them.
"Customers affected will be reimbursed for their fuel, vehicle recovery and any repairs which are needed."
A spokesperson for Murco said a number of deliveries of unleaded fuel from its Pembrokeshire refinery may have been contaminated by water.
"We are currently carrying out an investigation to determine whether such contamination has occurred at our site and its cause," the statement read.
"Until such time we complete our investigation we will maintain additional controls to ensure that any fuel leaving the site is free of contamination."