Man killed by runaway car in Swansea named as Hazim Ali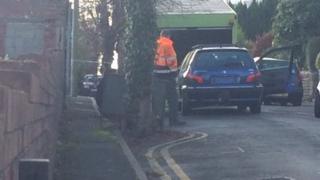 The man killed by a runaway car in Swansea has been formally identified as 63-year-old Hazim Ali.
His wife, who was hurt in the incident, was taken to hospital by air ambulance with serious injuries.
The incident happened at Finsbury Terrace, Brynmill, on Sunday morning and police are appealing for any witnesses to call 101.
The alarm was raised after a neighbour spotted the couple trapped beneath the vehicle.
"I immediately rang 999 and told the operator they would need to get all the emergency services here. It looked very serious," the neighbour said.
"The couple had just come back from shopping when they were run over by their own car.
"It's awful, they were a lovely couple."