Swansea council considers annual resident parking permit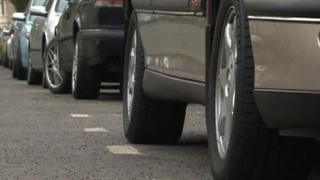 Charging residents £26 per year to park on the street is one of the proposals Swansea council is looking at to save £75m over three years.
A £52-a-year charge for a second car at the same address is also being considered as the council looks to meet its savings targets for coming years.
A spokesman said the scheme could generate £270,000, which would cover the cost of issuing permits.
The city is one of the last in Wales not to charge for resident parking.
The council's cabinet is to discuss budget-savings proposals on Tuesday, with a public consultation likely to start the following day.
A Swansea council spokesman added: "The proposals to introduce a small charge for residents parking permits would help to cover the cost of issuing the permits and add up to 50p a week for a first car and £1 a week for a second.
"No final decisions have been made on any of the proposals and none will be made until February next year when council meets to set the budget for the next financial year."