Prince Charles opens Llandovery College nursery school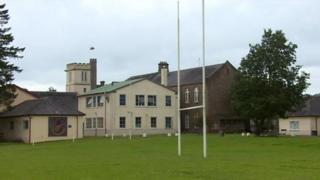 Prince Charles has officially opened a nursery at one of Wales' top independent schools as part of his pre-Christmas tour of Wales.
Llandovery College in Carmarthenshire, founded in 1848, ran up historic debts of about £4m in 2012 before a new company took over.
A new bilingual nursery school opened in September this year.
Its past pupils include two Archbishops of Wales and sporting stars including rugby international George North.
The Prince of Wales has a farmhouse at nearby Myddfai which he uses during his summer tour of Wales.
Last week his pre-Christmas tour took him to Newbridge in Caerphilly county where he officially opened the newly restored workingmen's institute, known as The Memo.
He also visited Swansea where he inspected soldiers who have returned from Afghanistan.